My great-grandfather Edwin (Ted) Leane was one of The Fighting Leanes of Prospect – once called the "most famous family of soldiers in Australian history" by historian and war correspondent, Charles Bean.
Five brothers and six of their sons of military age, enlisted in the Australian Imperial Force in the Great War during which four were killed.

Even in those brutal times, compassionate personal leadership often made the difference between victory (life) and defeat (death). Perhaps the most prominent Leane was Ted's brother Raymond, veteran of Gallipoli (where he was awarded a Distinguished Service Order and Military Cross) and later commander of the 48th Battalion and then the 12th Brigade. His nickname 'Bull' belied a style of leadership that inspired the love, adoration and loyalty of his men.Of course, he had high standards and wasn't shy in letting others know when they weren't met, but his softer side showed in his actions rather than his words. He was said to be "not only with his men but of them; cheerful and boyish as themselves, in fact a big, boisterous digger."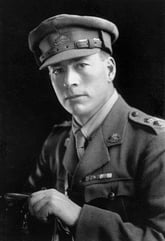 Brigadier General Sir Raymond Leane
As is characteristic of all Leaders-in-Service, Ray demonstrated as much loyalty as he earned. He ensured his men were as well looked after as was humanly possible in the circumstances, and courageously argued with his superiors when he considered his troops were being sent needlessly into peril. Traits like these quickly enhance a leader's reputation and result in his/her team becoming the team of choice; everyone wants to be in it and no one wants to leave.
All leaders be they military, political or corporate should aspire to create this level of two-way trust and loyalty.